Étienne (5°3), le rugby et son chat...
Voici le projet d'Étienne.
J'ai aimé son travail pour la qualité de l'anglais et son humour qui a ponctué les cours d'anglais ces deux dernières années.
Étienne est plein de vie, d'idées, d'esprit et il a déjà un bon niveau de langue ! Merci et applaudissements ! Mes amitiés à Minette et à la vendeuse d'oranges !
Marielle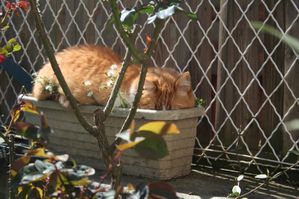 Minette wants to look like a flower.
English project
My name's Etienne. I'm going to introduce myself
and tell you what I like.
I'm twelve. I'm not very tall and I'm not very small.
I'm not very fat and I'm not very thin.
I'm normal-sized! I'm a teenager with friends and hobbies.
I love sport. I practice rugby and I swim. I've got a pet, a cat: Minette.
I live with my family at number ... street in Toulouse.
Some members of my family live in Metropolitan France
and other members live in La Réunion
which is a wonderful island in the Indian Ocean.
My family:
Among my family, I've got cousins, grandparents like everyone
but I've also got great grandparents.
My father and his grandparents: Pierre and Simone.
They impress me because they liked travelling.
They travelled almost in each country often with their old caravan
who passed away in Spain, United States, Canada and Alaska…
Since their 90 years old, they don't travelled so much.
We celebrated Simone's birthday the last year. She likes eating cakes!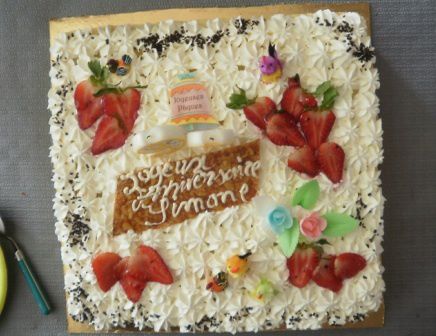 Her birthday's cake.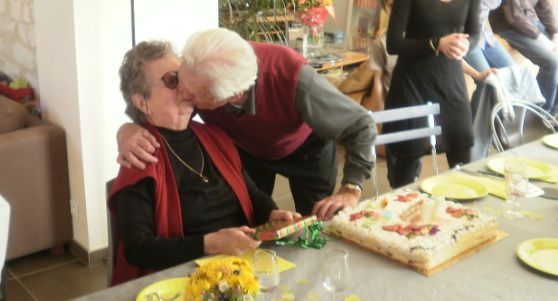 My great grandparents with all the family for her 90's birthday.
My hobbies:
I've got several hobbies:
going to the movies with my friends Damien and Yoann
to watch films for teenagers, for example Avatar and Harry Potter.
I never go with my parents because they don't really like this kind of film.
But I went to watch True Grit with them.
With my friends, Hugo, Damien and Yoann
I play football, basketball and rugby in the park Bonnefoy,
at week-ends, when it's sunny.
I just love food. I love eating but not cooking.
I'm a big fan of oranges.
I like eating an orange for breakfast and also for lunch and one for dinner.
Yummy oranges!
It is strange, isn't it? My parents must often buy oranges!
Of course, I like tasting a lot of different foods.
Pizza on Friday evenings in particulary those of "Pizza du Faubourg"
are much better than frozen pizzas.
When I grew up, I would like to be a professional taster.
I'm kidding!
I quite like reading, particulary comics, but not writing.
My favourite comics are Thorgal, Asterix, Seul…
I read Maus, it is a comic really different
but I enjoyed it because it deals with a serious subject:
extermination of Jewish people during the Second World War,
with just animals instead of humans.
Rugby also is a hobby.
One of my friends, Robinson goes to the rugby with me.
Our ` team wins almost each time.
It's one of the best in the region.
On the first May, we won the most important tournament of the year:
"Colomiers's tournament".
I will talk more about it on the rugby page.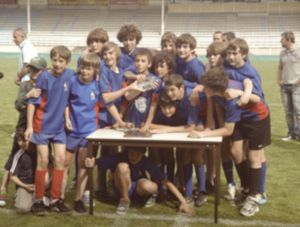 Rugby:
I particulary like rugbybecause I quite like contacts.
I'm also fond of rackets. I'm into tackling.
After trainings and matches, the third half-time,
I quite fancy have a drink with my team-mates.
I practice rugby in the TUC (Toulouse Université Club) club in Toulouse.
Now, I'm going to explain the rules of rugby and his history:
Rugby is a popular sport born in 1823 in England, in a small town called Rugby!
William Web Ellis created this sport.
It's also practiced in France, New-Zeland, Australia and in South Africa.
These are the best nations in rugby.
The fundamentals of rugby are running, tackling, passing the ball and scoring.
Rugby is played by two teams of fifteen players each.
The team is composed of eight forwards and six three quarters
and a scrum-half who distribute the ball.
The team:
1. Prop 2.Hooker 3.Prop
4. Second row 5.Second row
6. Flanker 7.Flanker 8.Lock
9. Scrum-half
10. Fly-half
11. Winger 12.Centre
13. Centre
14. Winger 15. Fullback
Forwards Scrum-half Threequarters
A rugby match is played in two half-time of forty minutes,
on the grass field within posts at each end of the field.
For scoring we must run, make fullback pass,
shoot the ball and score in goal area.
Yannick Jauzion is a French rugbyman who plays centre.
He's my favourite player and he plays in "Stade Toulousain".
He's very tall and very strong.
I think he's one of the best centre of the world
because he's a very good tackler. He makes accurate passes.
He is good at up und under. He frightens the opposing-side afraid.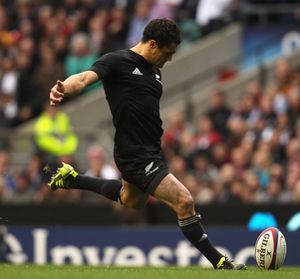 www.racing-1.com/.../02/Yannick_Jauzion.jpeg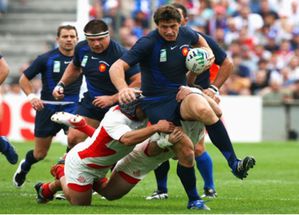 bp.blogspot.com/.../s1600/Dan+Carter.ff.jpg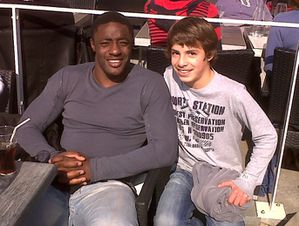 Yannick Nyanga, a rugbyman of Stade Toulousain, and me
in the beach of Anglet,
just after the match opposing Bayonne versus Toulouse
on the 5th March 2011
in Anoeta stadium in San Sebastian.
My cat :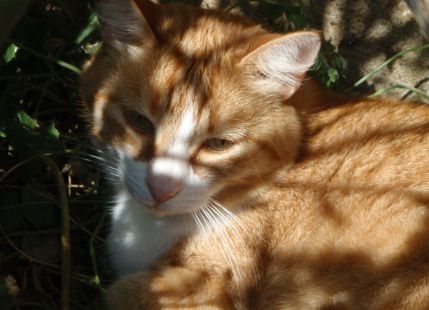 She's white and orange and she's a little fat!
Of course, she sleeps all day or eats.
May be, she would like to chase mice, but, of course,
we haven't got any mice in the house.
It's not dirty! She eats dry cat food, she is a cat but sometimes she's strange,
look at this picture! I love her as she is because she's cuddlesome.
La Réunion and my cousins:
My cousins, Elisa and Lucien, live in the island of La Réunion.
It's in the Indian Ocean near Madagascar. My grand-father also live there.
Lucien is ten and his sister, Elisa is thirteen.
Both were born in 2000,
Lucien is smaller than my brother Victor
but he is a better swimmer
because he often goes swimming at his personal swimming-pool
or in the lagoon.
Elisa likes talking but not walking.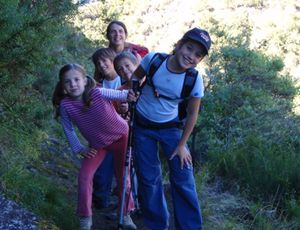 Three years ago, in the summer, we went to La Réunion to visit them.
It was a gorgeous trip! I loved this island at first sight.
It's a varied landscape:
there are the lagoon, the Ocean, mountains, a volcano:
"Piton de la fournaise" and primary woods on a small island.
People also were varied: from Europe, Asia, Africa.
White people are called "zoreilles" because they don't understand the "créole",
a specific language of La Réunion.
We swam in the turquoise water of the lagoon with colored fishes.
We walked in the mountains in "Le Cirque de Mafat".
We also saw the volcano which was active in January of the same year.
On the "Route des Laves",
it was still hot when we touched the asphalt.
It's an amazing island.
Pictures of "Cirque de Mafat":