The "galette des rois" by our two chefs Étienne & Pierre (3ème euro)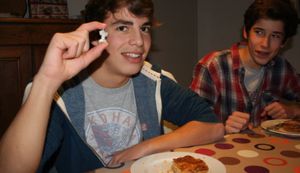 Here is another traditonal French dish :
la galette des rois !
I tasted it the following morning in class and it was delicious ! Honest ! (Just kidding boys ; a hint at Charlie in Privat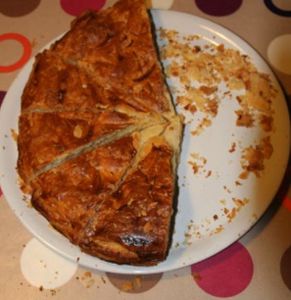 e Peaceful)
As you will see, our two young and cheerful chefs are full of beans !
(hint at the funny BBC teacher) and they have got quite a good pronunciation.
So, are The French so bad at English ? These two boys have been learning English in the classroom in France, along with 30 others students ! They haven't spent weeks in English speaking countries yet...
Thank you boys !
Etienne and Pierre
Script of the Recipe
Pierre:Hi everybody!
Etienne: We are two interesting and intelligent men,
Pierre:I bet, you've never been taught by two …
Etienne: By two dunces before ! So Pierre how are you today ?
Pierre:I'm feel good, I'm full of beans !
Etienne: So, I'm so impatient to start this recipe, so let's do it !
Etienne: Ingredients: You need : -Two puff pastries
-200 grams of pouder of almonds
-150 grams of fine sugar
-2 eggs
-100 grams of soft butter
-1 egg yolk
-And finally don't forget the charm
Utensils: You need: -a hot plate
-a fork
-and a bowl
STEP 1
Etienne : Place a puff paste in a hot plate
STEP 2
Etienne : Prick the puff paste with a fork
STEP 3
Etienne :Take a bowl and mix the pouder of almonds, the sugar, 2 eggs and the soft butter.
STEP 4
Etienne : Place the mixture in hot plate and hide inside it the charm. Here is Hector the charm, the lucky guy who receive the charm in this piece of cake is strong, king or the queen for the day.
STEP 5
Etienne :Don't forget to cover with the second puff paste, and stick well the edges
STEP 6
Etienne :Prick the second puff paste with a fork
STEP 7
Etienne : Make drawings on the top and spread the egg yolk
Etienne : Now it's done and we had a very rude time because of Pierre …
Pierre : Etienne …
Etienne :Pierre …
Pierre : Etienne …
Etienne : Er … Stop talking please and let's test it .
Pierre : AT the beginning the charm was a dried bean. The Roman celebrated the god of agriculture, Saturn. Then, people like to bake a cake to celebrate the epiphany day , when the magi came to welcome Jesus, the newborn baby. This feast takes place in the second Sunday after Christmas, in January. Since the end of the ninetieth century the has been in porcelain. Today, unfortunally it's often in hard plastic.