My first brownies ! Try again...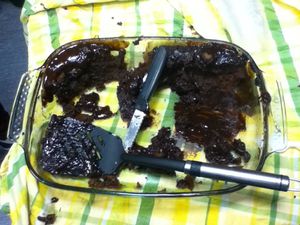 I kept my promise and brought homemade chocolate brownies to school this morning.
My "3ème euro students" have treated me to delicious cakes for several months now, so I thought it was my turn - on "brevet blanc" day - to bring something sweet to eat !
Marion, another mousepotato teaching in Dreux, shared her most popular recipe with me : brownies
I followed her recipe very carefully but the brownies did not really look like those lovely little brown squares you usually call brownies...
I felt somewhat embarrassed but my students obviously loved them !

Click on the picture to get Marion's recipe !
Thank you Ariane for taking and sending the picture !