Buying an ice-cream ! (role-play in the classroom with Jules, Kenza and Paul))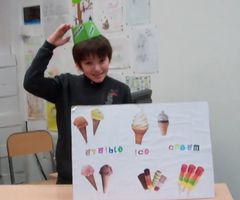 Year 8 students (= 5°) have created and participated in role-playing scenarios.
They were first assigned a topic : buying an ice-cream
Then each group had to put ideas together and write a scenario.
They had to incorporate what they had learned in class (see mind map here) while also bringing in their personal touch and this, as well as the group work made it definitely enjoyable.
They performed their play in front of the class and analysed their performance.
Watch the following video :
Two friends, Jules and Kenza feel like an ice-cream...Paul is an ice-cream vendor.
I feel very happy about their accomplishment, all the more so as two of them are dyslexic.
They speak clearly, look cheerful, seem to feel at ease in spite of the "stage fright."
Thank you !
More "buying an ice-cream videos" coming soon...