Buying an ice-cream - continued - (role-play in the classroom with Antoine, Basile and Julia)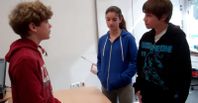 Today, you will watch Antoine, Julia and Basile play roles...
Antoine is the ice-cream vendor. Basile just loves papaya ice-cream and he insists on having some which drives Julia up the wall...
Good job ! Thank you !