The first couple takes the first dance as President and First Lady of The United States of America ! (BBC Video)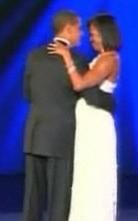 Mmmh...I wish I were in his arms...and danced with him...
"Euh ! Madame, est-ce qu'on en aurait parlé autant en classe si c'était Mc Cain qui avait été élu ?" (Nina, 4°3)
Teacher : "Of course !"
Je mens bien, hein ? Pour parler vrai, nous en aurions parlé ; tous les 4 ans, les élèves y ont droit mais bon...peut-être pas aussi longtemps et puis, Mc Cain n'est pas beau d'abord !...et il ne parle pas aussi bien ! Profitez de ce nouveau président pour vous bercer de la beauté de la langue anglaise et travailler la prononciation ! Et puis, rêvez...
"President Barack Obama and his wife Michelle have taken their first dance as the First Couple of the United States.
They took to the stage at the Neighbourhood Inaugural Ball, where Beyonce sang for them."