Listen to Toby ! (Soundguide)
Here is a global and detailed comprehension exercise (talking about oneself, activity 4) created by Rodolphe Maurel on his site "soundguide" ! Thank you, Rod !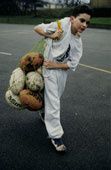 "Toby introduces himself (introduce oneself = se présenter) (length 55s - English accent).
Activities for beginners from an authentic document."
Answer multiple-choice questions first, then do a fill in the gap exercise !
Click on the picture above to do activity 4 !