Voters prepare to pick President ! (cbbc newsround)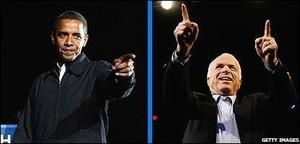 "Voters are getting ready to make their choice on election day in the US, with Barack Obama tipped to win.
The Democratic candidate is ahead of his Republican rival based on surveys asking which of them people in America are most likely to vote for.
But John McCain says he can still spring a huge upset and become the 44th president of America.
The first results are expected around midnight, although the winner won't be confirmed until a few hours later.
Click here to find out more about the elections
In some states people have been allowed to vote before the day of the election, and it's thought around 27 million Americans have already made their choice.
Even so, more than 100 million votes will still be cast on Tuesday". [...]