"Ensemble, c'est tout", a book review by Cassandre (3°3)
Ensemble, c'est tout de Anna Gavalda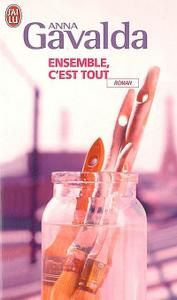 This book tells the story of 4 people :

- Camille, who draws, she does the housework, and lives in a little flat.

- Philibert, an aritoscrat, who lodges

- Franck, a cook, who loves girls, motor bikes and

- Paulette, franck's grand mother, who lives alone, and falls a lot, frightened not to die in her house.


These four people will meet. They are alone, lost ... But they will help each other to live happily together.



It's a beautiful book, I'm not sure that it could please anyone,

But I liked it, I don't know why, it made me cry because it could happen to someone, one day.

Cassandre



I think the "4ème and the 3ème" can read it.