Le deuxième été : a book review by Cassandre (3°3)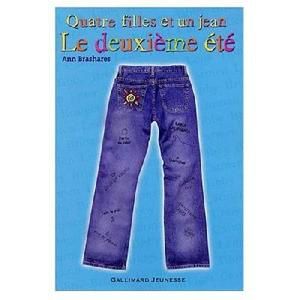 In the second volume of

"4 filles et un jean"

called

"L

e

deuxième été"

, the four teenagers live more adventures :
- Carmen stays with her mother and discovers one of her mother's colleague.
- Tibby goes and makes a movie in a New York's university for a summer camp. Her memory comes back after a betrayal...
- Lena stays home, she discovers her mother's love and something about her feelings ...
- Bridget goes to see her grandmother in Alabama and sees her mother's life ...
The jean continues to be the object of their friendship relation during the summer.
In this book, I prefer Bridget because she insists on finding hapiness , on knowing all the secrets; I prefer Carmenfor for the same ; I prefer Lena because she is curious. Tibby is not the same because she doesn't trust the people she knows.
I strongly advise it, if you have read and liked the first.

Cassandre